Introduction
Applications, Forms
Cub/Webelos High Adventure Awards
High
Adventure is the lure and mystery that keeps Scouts in Scouting well into their adult years. The awards presented on this page are for activities age-appropriate for Cubs and Webelos Scouts. These adventures can be important in that critical time when Webelos decide whether to continue on as Boy Scouts.
Enjoy!
HIGH ADVENTURE activities will add an exciting element to your unit's program. The BSA HIGH ADVENTURE program offers guidance for countless pre-planned activities and a resource for new outing locations.
Hiking and bicycling are key elements to the program for all ages.
There are many activities that expose youth to local history, nature programs, and conservation and/or service projects.
Many programs correspond to school curriculum. For example, El Camino Real for fourth grade California history.
The essential element to offering a HIGH ADVENTURE program to your Pack is the adult training program.
The California Inland Empire Council HAT offers training scheduled throughout the year.
Completing the L.O.S.T., Map and Compass, and Basic Backpacking courses makes you "High Adventure trained".
LOST-Leader Outdoor Safety Training. This course covers planning, procedure and safety concerns for taking a group of scouts to more remote locations. (8 hour course)
Map and Compass- A hands-on navigation workshop that teaches the theoretical and practical application of map and compass skills. (8 hour course)
Basic Backpacking-This course covers the skills and equipment considerations for safe backcountry camping. An 8-hour course (1 day) followed by introductory backpacking weekend. Approx. 5 miles.
Additional Training is offered on a variety of topics. Please see the
HAT Catalog
for more information.
The HIGH ADVENTURE TEAM (HAT) is a group of volunteer Scouters who are adventure enthusiasts working together to develop and improve additional opportunities for scouts, promote the High Adventure program and provide training to adult leaders. The CIEC team meets monthly and welcomes all registered Scouters to join them.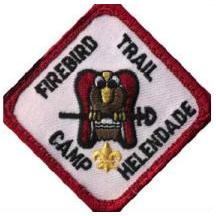 FIREBIRD TRAIL
This award can only be earned at Camp Helendade (California Inland Empire Council) during the Summer and very early Fall months.
Requirements:
This award can be earned by Webelos, Den Chiefs, Scouts and Scouters who hike five (5) miles, round trip, on the Firebird Trail as a Webelos Den. Trailhead is located at Camp Helendade.
At least one adult is required for every three Webelos. A minimum of two adults on every trip.
Water and a sack lunch must be carried by each participant. Daypacks are suggested. Each participant must carry his personal first-aid kit and one adult must carry a Den first-aid kit and be qualified in basic first-aid.
No fire, at anytime, is permitted. File a Local Tour Plan 21 days prior to the hike.
Leader must check in and out with the Camp Ranger and provide a list of all hikers. Certificate is available for each participant during Summer Camp only. For health and safety reasons, do not swim in, or drink the water in Deep Creek.
The Den must start the hike by 9:00 AM. It is suggested an overnight campout be planned. It is strongly recommended that the Den Leader, or adult in charge, have completed the Basic Backpack training.
WEBELOS UNDER THE STARS
Webelos, Den Chiefs and Scouters can earn this overnight camping patch by planning and attending any Webelos Den overnight campout. However, this patch cannot be earned when working on any other High Adventure Award.
Requirements:
Three weeks prior to the overnight campout, a Local Tour Plan must be filed with your local Council Office.
The patch is earned by completing a Den overnight campout where Webelos are working on various Activity Badges. This could be a family campout that Webelos, parents, and Den Leaders are attending.
The patch may be worn on the right shirt pocket of the Webelos Uniform as a temporary patch.
While the overnight campout does not have to be at a Council Camp, it is recommended.
At least one adult should have a first-aid kit and be qualified in basic first-aid.
MT. BADEN-POWELL
Requirements:
Comply with the general requirements.
Climb to the Peak of Mount Baden Powell (9,399 ft.)
INFORMATION:
This award can be earned by Webelos. This hike is NOT RECOMMENDED for Cubs.
This award can be earned alone, or with other awards where you may plan a climb of Mt. Baden-Powell.
Summer is the best time for this trip. The trail is closed during the Winter months - usually from November to June.
Carry your drinking water for the hike from home. There is no dependable source of water at the trailhead or on the trail.
LOCATION:
A trail head is located at Vincent Gap. From I-10 and I-215 proceed north on I-215, 22 miles to Cajon Junction, take Hwy. 138, then Hwy 2 (West) 19.5 miles to Vincent Gap.
AKELA AWARD
The Akela Award program is to be used to encourage WEBELOS to become BOY SCOUTS. This is an optional program and is not required by BSA for any rank advancement or transition. The program is to be implemented at the discretion of the Unit Leaders.
Requirements:
As a WEBELOS, earn at least six Activity Pins AND at least one Cub Adventure Award AND attend a Boy Scout Troop Meeting or Court of Honor; OR earn the ARROW OF LIGHT Award.
As a WEBELOS, complete two hours of service in the home, church, school, or community. Parents and boy must agree on the scope of the project and the Webelos Leader must approve the project. Parents certify that project has been completed.
Within four months of graduating from the Cub Scout Pack or after completing the Fifth Grade, the boy must register with a Scout Troop and complete the Boy Scout joining requirements.
As a BOY SCOUT, be active in your Troop and Patrol for at least six months AND attend at least one overnight troop campout; OR, advance to the TENDERFOOT Rank.
FOR LEADERS: The AKELA AWARD may be presented to the Cubmaster, Webelos Leader, Webelos Den Chief, Scoutmaster, Assistant Scoutmaster for New Scouts, or Troop Guide who has had a minimum of four boys in the Pack, Den or Troop earn the AKELA AWARD.

Implementation:


The Scoutmaster should coordinate with the Webelos Leader for the "Troop Visit' and plan a "Bridging Ceremony" for graduating WEBELOS.
When the boy joins the Scout Troop, he must inform the Scout Leader that he has been a Webelos, that he has completed the AKELA AWARD requirements for WEBLEOS, and that he desire to complete the Boy Scout AKELA AWARD requirements.
It is recommended that the AKELA AWARD should be presented at a meeting of the Scout's former Cub Pack to help encourage Cubs to transition into Scouting.
HOME TOWN HISTORIC SITES
The Home Town Historic Sites Award is designed to promote awareness of local community history. The award may be earned by Cubs, Boy Scouts, Girl Scouts, or Adult Leaders as an individual or a Unit activity.
Requirements
Comply with all applicable GENERAL REQUIREMENTs.
File a Local Tour Plan.
Contact a High Adventure Team member or your local community historical society for suggestions on appropriate sites to visit. Upon completion of all requirements, file an awards application with your local High Adventure Team or Council Office.
Prepare a listing of local historical sites in or near your community which are of interest to you.
Within a sixty-day (60) day period, visit any four sites on your list. For two (2) of these sites, you must hike between one site and the other. The hike may be completed on foot or by bicycle. (Unit Leader may waive this requirement if route is not safe for all participants or if distance is over two miles between sites).
Each participant shall prepare a report at a Den or Pack Meeting on the sites visited. The report may be oral, written, a drawing, or a display.
WEBELOS CYCLING
This award is designed to promote the enjoyment of bicycling. It should be planned as a Webelos Den Activity. Only registered Webelos Scouts, Adult Leaders, and Den Chief's may quality for this award.
Requirements:
Before the first bicycle ride, have Handyman requirement 5, 6, and 7 signed off. Additionally, be sure the bicycle meets local laws. Earn the Handyman Activity Badge before receiving the award.
For both rides, each boy should have access to the following equipment:

Patch kit or extra inner tube.
Tire lever for removing the tire from the rim.
A tire pump.

Cyclist must have taken a day training ride of at least 15 kilometers (9.3 miles).

Corrected 5/20/2010.

The cyclist must complete this award ride within a day by riding at least 25 kilometers (15.5 miles).
Each ride should be done for enjoyment, so stopping at points of interest is encouraged. Water and lunches are recommended.
Leader to Webelos ratio must be at least 1 adult leader for 8 boys and not less than 2 adults for any ride.
Leader must carry a parent release (emergency consent) for each Webelos, which specifies the outing and date covered, and must have a completed tour plan turned into the Council office.
Riding group must have at least one registered adult Scouter. Each riding group must also have an adult with a current First Aid Card. The adult Scouter may be the First Aid card carrier.
It is highly recommended that each rider wear a safety helmet. [Webmaster note: Helmets are required by law in California.]
It is highly recommended that the riding group use Class I bikeways. Class I bikeways, also referred to as "bike trails" or "bike paths", are routes that do not follow any previously established right-of-way. Ideally, they are constructed exclusively for use by cyclists and offer the most pleasant recreational riding.
. -->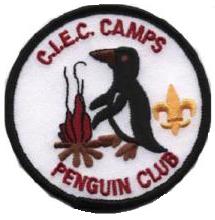 CIEC CAMPS PENGUIN CLUB
Award Application
It is recommended that at least one adult outing leader have training in winter camping prior to the campout. Due to National Policies, no Tigers, Wolfs or Bears may earn this award. The patch is available through your local Council Headquarters for any Webelos, Scout, or Scouter who meets the following requirements:
Comply with the General Requirements.
File a Tour Plan 21 days prior to the overnight campout.
Patch is earned by camping overnight in one of the local Council Camps: Emerson or Helendade.
The campout must be in snow, the unit must use tents, no cabins
As a Scout, this patch may be worn on the right pocket of uniform shirt as a temporary patch.
At least one adult should be qualified in Basic First-Aid and carry a first-aid kit.
Notify Camp Ranger or Campmaster as you are entering and leaving camp.
Carry out all of your trash as directed by Camp Staff.
Webelos may earn this award at Council Klondikes only.
Revised 4/26/2001